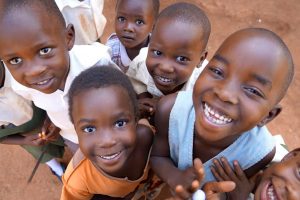 Since 1971, CGIAR has been responsible for some of the most innovative breakthroughs in agricultural research. The CGIAR Research Program on Agriculture for Nutrition and Health (A4NH) takes CGIAR's success in agricultural research to the next level, building on the notion that agriculture can do much more than reduce hunger and poverty.
Hunger, malnutrition, and poor health remain widespread and stubborn development challenges. Agriculture has made remarkable advances, but its contribution to improving the nutrition and health of poor farmers and consumers in developing countries lags behind. CGIAR established Research Programs such as Agriculture for Nutrition and Health to provide new ways for researchers, policymakers, and stakeholders to join forces and go farther in solving problems of global hunger and malnutrition.
With an innovative perspective that focuses on consumption and demand, A4NH seeks to realize the enormous potential of agricultural development to make significant contributions to improving the nutrition and health of people worldwide. Now entering its second phase, A4NH is led by IFPRI and managed by a group of four other CGIAR centers and two academic institutions. It brings together the talents and resources a wide range of partners, to carry out research activities through five unique, yet complementary, flagship programs and three cross-cutting units in at least 30 countries.  Working with such a large and diverse group of partners around the world, A4NH forges cooperation between the agriculture, nutrition, and health sectors and support countries in their capacity to lead and take ownership of work on these development issues.
In Phase II, A4NH will expand its focus to address challenges related to food system transformation, the rising burden of foodborne disease, and emerging health risks such as antimicrobial resistance. Program work continues to recognize that addressing inequality related to gender or other social categories is a development objective in its own right, and an important condition for achieving other development objectives, particularly improved nutrition and health.
As CGIAR's only research program on nutrition and health, A4NH makes a unique contribution to specific CGIAR targets related to reducing poverty and improving food and nutrition security for health. The call for agriculture to support better nutrition and health is reflected in the discussions leading up to the United Nations' 2030 Agenda for Sustainable Development and in the new CGIAR Strategy and Results Framework. A4NH puts this desire to unite agriculture, nutrition, and health into action, with all five research flagships working to contribute to both SDG 2, End hunger, achieve food security and improved nutrition, and promote sustainable agriculture; and SDG 3, Ensure healthy lives and promote well-being for all at all ages.