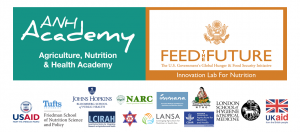 Updated July 6: The program for the 2nd Annual Agriculture, Nutrition and Health (ANH) Academy Week and the 5th Annual Feed the Future Innovation Lab for Nutrition Agriculture-Nutrition Scientific Symposium is now available.
Looking for the latest from ANH Academy Week 2017? Be sure to read the blog posts highlighting the many different aspects of the event, and check back regularly for updates! 
The events, hosted by the ANH Academy, in partnership with the Feed the Future Innovation Lab for Nutrition, will be held 9-13 July 2017 in Kathmandu, Nepal. The ANH Academy and the Nutrition Innovation Lab invite the global community to participate in this event.
The ANH Academy Week is an annual event open to the global research community, which expands on the successful history of events and conferences co-hosted by  Leverhulme Centre for Integrative Research on Agriculture and Health (LCIRAH) and the CGIAR Research Program on Agriculture for Nutrition and Health (A4NH), alongside Innovative Methods and Metrics for Agriculture and Nutrition Action (IMMANA).  The Nutrition Innovation Lab's annual scientific symposium similarly, has been a forum for Nepali scientists to present research on nutrition, agriculture and health as well as to network and interact with their peers within Nepal and outside. The annual symposia supported by USAID has been successfully organized since 2013 by Johns Hopkins Bloomberg School of Public Health and the Friedman School of Nutrition Science and Policy, Tufts University with its co-hosts the Institute of Medicine, Tribhuvan University (IOM), Nepal Agricultural Research Council (NARC) and the Nepali Technical Assistance Group (NTAG).  The goal of each annual event has been to facilitate the sharing and learning of evidence on linkages between agriculture and food systems for improved nutrition and health and linkages and disconnects along the agriculture- nutrition pathway.  Additional support and collaboration in delivering 2017's Academy Week comes from the Leveraging Agriculture for Nutrition in South Asia (LANSA) research programme.
The joint ANH-Nutrition Innovation Lab programme will feature contributions from a diverse set of ANH Academy partners, Nutrition Innovation Lab partners, Nepali researchers and students with the oversight of an International Steering Committee, including:
Learning Labs (training workshops) offered by ANH and Nutrition Innovation Lab co-hosts;
A scientific symposium on Agri-Health Research with call of abstracts for global and Nepal based research in the realm of agriculture, nutrition and health;
Events led by ANH and the Feed the Future Innovation Lab for Nutrition; and
Opportunities for networking
Click here for additional information.