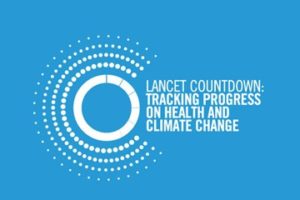 Today marks the launch of Lancet Countdown: Tracking Progress on Health and Climate Change, a new international, multi-disciplinary research collaboration between academic institutions and practitioners across the world. It is being established to track the different aspects of the relationship between health and climate change.
With input from 48 leading experts from across the world, some 16 institutions are academic partners, the Lancet Countdown initiative aims to ensure that the case for action on health and climate change is more widely evidenced and understood. It will inform decision-making and drive an accelerated policy response to climate change, reporting  annually in the leading global medical journal, The Lancet, and complementing other initiatives, such as the Intergovernmental Panel on Climate Change.
You can download and read the inaugural Lancet Countdown report for free at The Lancet or learn more about the initiative on the Lancet Countdown website. Watch the short video below to learn more about how the initiative aims to identify and monitor the impacts of climate change on health, and the benefits that an accelerated response brings.