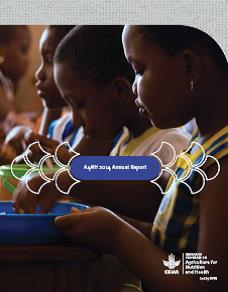 A4NH is pleased to share our latest annual report covering exciting research and collaboration from 2014. The year was filled with a range of accomplishments, outputs, and events spanning all four flagship areas. The delivery of biofortified crops surpassed 1 million farming households, efforts to stem aflatoxin contamination in Africa evolved beyond the pilot stage, and a team of A4NH researchers contributed to the development of a new global indicator to measure women's dietary diversity.
Major events in 2014 included a consultation in Rwanda to mobilize partners on scaling up the delivery of biofortified crops, and another in India to share evidence and experiences on improving nutrition.
A4NH researchers contributed to several major outputs, including the Global Nutrition Report 2014, which examined the state of the world's nutrition, as well as a Safe Food, Fair Food book which synthesized lessons from ten years of food safety research in Africa.
Lastly, the year included an evaluation of our food safety component and the start of an external evaluation, as well as initial preparations for a second phase of work which will begin in 2017.
We hope you enjoy reading about our 2014 progress and plans for the coming year in the latest A4NH annual report. You may download a PDF copy of the report from the IFPRI website here, or read it in magazine-format below.

Click to launch the full edition in a new window