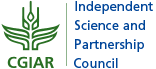 From September 22-23rd the CGIAR Research Program on Agriculture for Nutrition and Health (A4NH) and the CGIAR Independent Science and Partnership Council (ISPC) jointly hosted a workshop on nutrition as a follow-up to the 2013 Science Forum that focused on "Nutrition and Health Outcomes: Targets for Agricultural Research."
One of the main objectives of this closed workshop was to inform the second round of CGIAR Research Program proposals to ensure they deliver improved nutrition outcomes from agricultural research. The participants organized their discussion around two themes: Research to increase access to an affordable, nutritious and safe diet, and Evaluating the impact of agricultural interventions and investments on nutrition.
Presentations from the workshop are available here.