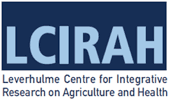 The Leverhulme Centre for Integrative Research on Agriculture and Health (LCIRAH), a partner of A4NH, is inviting the submission of abstracts for its 4th Annual Research Conference, to be held at Birkbeck College in London, from June 3-4th, 2014. This year's theme is agri-food policy and governance for nutrition and health.
Submissions can be abstracts from qualitative or quantitative research studies, but should be related to one of the following two broad topics:
The impact of agri-food policy on nutrition and health
Optimizing the impact of institutions and governance in the agri-food system on human health and nutrition
Authors should submit abstracts via email to LCIRAH@lidc.bloomsbury.ac.uk by 20 December 2013. Abstracts will be reviewed by an expert panel and selected for either oral or poster presentation based on scientific quality and relevance of the research to the conference theme.
More details on abstract requirements and format can be found here: Call for Abstracts

For information on the conference, registration, or eligibility for financial support, please visit the following website:  http://www.lcirah.ac.uk