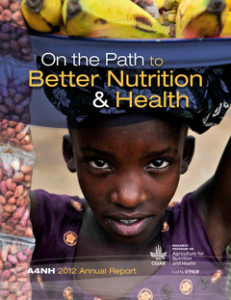 Today we are proud to release our inaugural A4NH annual report, coinciding with the start of our 4th Center Focal Point & Planning and Management Committee Meeting held in Kenya. 
Farmers are growing more food than ever. Yet, insufficient diets and micronutrient deficiencies remain among the most pressing nutritional problems worldwide, especially among commonly neglected groups such as women and children. In addition, diseases that are spread through unsafe food and between animals and humans disproportionately threaten the health and livelihoods of the world's poor.
A4NH was created to help ensure that agricultural practices, interventions, and policies will maximize health and nutrition benefits, while reducing health risks.
"Agriculture, as a source of food and income and as an engine of growth, has the potential to significantly and sustainably improve poor people's nutrition and health. A4NH is designed to do just this," according to Shenggen Fan, Director General of IFPRI, the lead Center for A4NH.
Since launching in January 2012, A4NH and its partners from 11 CGIAR Centers, have had an exciting and busy year. The program not only established research priorities and set the groundwork for successful partnerships, but also got to work—conducting research and gathering evidence- especially in the areas of biofortification, sustainable diets, and agriculture-associated diseases.
This week, as our leadership gathers to plan for an exciting path forward, we hope you enjoy reading about the progress we have already made towards better nutrition and health.
You may download the report on the IFPRI Publication page here or read it in magazine-format here.