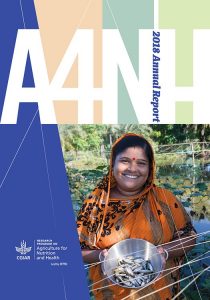 The CGIAR Research Program on Agriculture for Nutrition and Health (A4NH) is pleased to announce the release of its 2018 Annual Report, highlighting program activities and accomplishments.Detailed in the report are research, results, and events from across A4NH's five research flagships and five focus countries, including:
"Across A4NH, we are focused on deepening our partnerships with national stakeholders, as we all work towards achieving SDG 2 — ending hunger and achieving food security and improved nutrition — and SDG 3 — ensuring healthy lives and promoting well-being for all," noted John McDermott, Director of A4NH. "The relationships, knowledge, and understanding that emerge from this embody the goals laid out by CGIAR for integrative research programs. We are pleased to share this update of our work, and look forward to building on it as we move forward."
An interactive version of the report is available here, while the full report can be downloaded here.