We view partnerships as long-term, sustainable collaborative relationships with shared responsibility, mutual respect, and clear accountability in which different parties join together to achieve a common goal while contributing to each institution's mandate that would not be possible for either partner to achieve alone in a cost-effective or time-efficient way.
The CGIAR Program on Agriculture for Nutrition and Health (A4NH) relies on the collaborative efforts of its global partners- including researchers, development implementers, value chain actors, and enablers, such as policymakers and investors- to achieve improved development outcomes.
The motivation behind the A4NH program is that there is great urgency in drastically reducing undernutrition and health problems in low and middle income countries and that agriculture can do much more in contributing to better nutrition and health through strategic collaboration between the CGIAR and key development actors. Led by the International Food Policy Research Institute (IFPRI), the program is committed to working so that its research can have greater impact through supporting key development actors and building the capacity of research and development institutions and actors in low income countries. A4NH recognizes that it and other partners will need to work in new ways to forge performing partnerships between the agriculture, nutrition and health sectors in a way that has not been done previously.

 

"Our collaboration with A4NH makes it possible for us to engage a global community of researchers and practitioners who are developing more nutrition- and health-sensitive agriculture in low- and middle-income countries."

(Jeff Waage, Director, London International Development Centre, LCIRAH)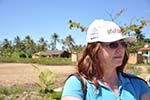 "Through our partnership with A4NH we are able to expand the "food basket" approach to biofortify the main staple crops that form the diets of vulnerable populations in Latin America and the Caribbean and then share these technologies worldwide."

(Marilia Nutti, Manager, Latin America & Caribbean, Embrapa Food Technology)
The leaders of the A4NH program are committed to a partnership process that incorporates strategic thinking, systematic processes with partners, innovative behaviors and resources, and implementation of best partnership performance practices. There will be different types of partnerships for different purposes. Implementing partners actions achieve nutrition and health development outcomes and impacts. Research can play an essential and catalytic support role but must partner with and support others effectively for progress to be achieved.
Types of partnerships
Depending on their roles, partners are classified into five broad categories:
The CGIAR: The research centers who are partnering with A4NH
Enablers: Policy and decision makers as well as investors who are all involved in the creation of enabling environments at different national, regional, and international levels.
Development Implementers: Government departments and ministries, the United Nations and other global initiatives, NGOs, civil society organizations, and farmers' groups that all play critical roles in development programming
Value Chain Actors: Private-sector companies, public-private initiatives, associations, and groups that focus on the quality and safety of foods in value chains.
Research Institutes: Developed and developing-country research institutes and academic institutions at the national and international level that are involved in ANH.
Within the categories mentioned above, the research program is working with diverse relations with a multitude of organizations ranging from pure transactional relationships to full partnerships or is in the process of engaging with them.
A4NH will seek funding for research into partnerships to broaden its horizons, and will constantly be on the lookout for partnerships that can add value.
Documentation related to Partnerships:
Download Full A4NH Partners List
A4NH Draft Partnership Strategy
Summary document: A4NH Partnership Strategy (Nov. 2013)