We view partnerships as long-term, sustainable collaborative relationships with shared responsibility, mutual respect, and clear accountability in which different parties join together to achieve a common goal while contributing to each institution's mandate that would not be possible for either partner to achieve alone in a cost-effective or time-efficient way. - John McDermott, A4NH Director
A4NH is specifically designed to address the CGIAR System Level Outcome (SLO) on improving nutrition and health. In taking on this challenge, A4NH recognizes that no single institution can reach this goal on its own. Strong and diverse partnerships are central for success. A4NH partnerships forge cooperation between agriculture, nutrition, and health sectors and strengthen the capacity of national research organizations and scientists in these sectors to provide knowledge, evidence, and direction to multi-sectoral actions to achieve country, regional and global development goals. Through partnerships, we build new relationships between researchers and development implementers and enablers for faster progress in achieving development outcomes and impacts.
A4NH has seven managing partners. In total, A4NH works with more than 300 partners around the world through at least 60 projects. Partners fall into four broad categories of individuals or organizations, depending upon their role in the impact pathway: researchers, actors in value chains, development program implementers, and enablers. The relative level of involvement varies (e.g. grows, reduces, or maintains) based on the stage of research.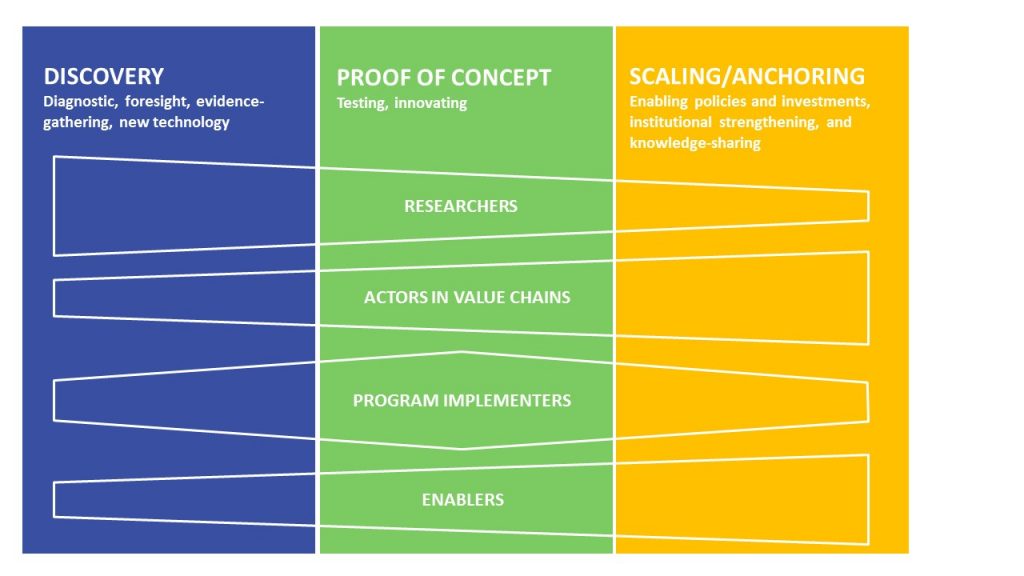 Research partners include other CGIAR Centers and CRPs, advanced research institutes, and academic institutions that are involved in agriculture, nutrition and health research. Research partnerships are central in the A4NH theory of change mainly for generating research outputs and enhancing capacity to generate evidence and develop and test technologies and other innovations with potential for scaling out. Research partnerships are also critical for generating information about impact pathways and underlying assumptions that can inform how research is designed and delivered.
Agri-food value chain actors include individuals, firms, public-private initiatives, and the organizations and association that represent them, all along the value chain, including input suppliers, producers, processors , transporters, wholesalers, retailers, marketers, regulators, and consumers. A4NH works with value chain partners in two main ways: (1) to develop and test value chain innovations and (2) to create and sustain an enabling environment for health, nutritious food systems.
Development program implementers include government ministries, the United Nations, and other global initiatives, NGOs, civil society organizations, and farmers' groups that all play roles in designing and implementing nutrition- and health-sensitive agricultural development programs. By generating evidence on what works and translating it into operational guidance, A4NH supports development implementers to increase the effectiveness and cost-effectiveness of their programming.
Enablers include policy- and decisionmakers, as well as investors involved in creating enabling environments at national, regional, and global levels. Where political will already exists to support nutrition-sensitive agriculture, A4NH works with initiatives like the Scaling Up Nutrition (SUN) Movement, governments, and with regional organizations like the Comprehensive Africa Agriculture Development Program (CAADP) to enhance the capacity to develop and implement strategy and policy options.
The A4NH Partnership Strategy addresses the principles for partnerships around the program and some key steps for moving forward in the planning, development, and management of transformative partnerships.
Documentation related to Partnerships:
A4NH Partnership Strategy (Updated August 2015)
A4NH Draft Partnership Strategy
Summary document: A4NH Partnership Strategy (Nov. 2013)