The CGIAR Research Program on Agriculture for Nutrition and Health (A4NH) is dedicated to the realization of Sustainable Development Goals 2 and 3, laid out by the United Nations. In 2018, A4NH began its second phase of work, with five research flagships, seven managing partners, and activities in more than 30 countries all working toward realizing this vision.
Messages from A4NH's Director and IFPRI's Director General Download Full Report (PDF 2.8 MB)
Flagship 1: Food Systems for Healthier Diets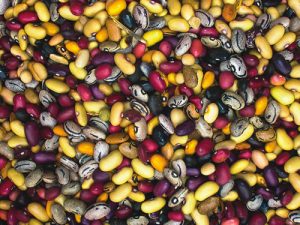 The Food Systems for Healthier Diets (FSHD) flagship takes a national perspective, focusing on an in-depth look at dietary gaps in food systems of four countries: Bangladesh, Ethiopia, Nigeria, and Viet Nam. In various contexts, researchers "zoom out" to global food systems or "zoom in" to urban food systems to better understand national food system dynamics. In alignment with national policies and using decision-makers' narratives, FSHD works with stakeholders to develop food system innovations that contribute to consumption of and demand for healthier diets. A systemic approach highlights the relationships among different food system components and how a change in one component influences other outcomes, and recognizes that food systems involve multiple actors managing multiple value chains in an interactive way. The flagship brings in private partners, especially small and medium enterprises, and seeks to strengthen the food systems thinking capacity of public, private, and civic partners and to involve early-career researchers who will be the future leaders guiding food system transformations. This flagship is led by Wageningen University & Research (WUR), with support from Bioversity International, the International Center for Tropical Agriculture (CIAT), the International Food Policy Research Institute (IFPRI), the International Institute for Tropical Agriculture (IITA), and the Global Alliance for Improved Nutrition (GAIN).
Flagship 2: Biofortification
More than two billion people in the world do not get enough essential vitamins and minerals in their daily diets. Those suffering from this less visible form of undernutrition are vulnerable to blindness, impaired physical and cognitive development, disease, and even death. In 2018, HarvestPlus, which leads A4NH work on enhancement of the micronutrient content in staple crops, collaborated with many partners to develop and disseminate more biofortified crops. In addition, new research strengthened the evidence that these biofortified crops measurably improve micronutrient status and health. Policy and advocacy efforts to sustain biofortification's impact also advanced.
Flagship 3: Food Safety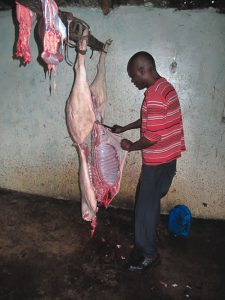 Food safety has rapidly moved up on the development agenda, propelled by a confluence of circumstances: A growing body of research demonstrates the significant burden of foodborne disease. Growing numbers of middle-class consumers are demanding access to safe food. Increasingly complex food systems have put greater distance between consumers and farms, with a need to ensure food's safety along the value chain—through harvest, transport, storage, and sale. These circumstances all intersect in low- and middle-income countries, which are growing and changing fast. With so many factors in play and different circumstances facing each country, food safety research, evidence, and policy support are more critical than ever. A4NH researchers are working across contexts and situations to provide this evidence and support to those who need it, from farmers to consumers and from market agents to policymakers. This flagship is led by ILRI with support from IITA and IFPRI.
Flagship 4: Supporting Policies, Programs, and Enabling Action through Research (SPEAR)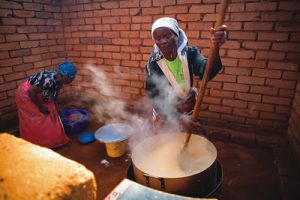 A4NH's fourth flagship works with a range of partners, governments, civil society, and regional and global organizations to develop multisectoral solutions to the challenges of malnutrition in all its forms (including undernutrition, overweight, and obesity). Bringing agriculture, nutrition, and health stakeholders together, SPEAR helps stimulate an enabling environment for partnerships and joint programs and policymaking, paying particular attention to issues of gender and equity. Researchers work directly with governments to help them support and implement national policies and programs and to shine a light on the value of knowledge and evidence for improving these initiatives. This flagship is led by IFPRI with support from Bioversity International and the Institute of Development Studies (IDS).
Flagship 5: Improving Human Health
Agriculture transforms both landscapes and livelihoods, changing both the conditions that allow human diseases to emerge and spread and the capacity of communities to protect themselves. Agricultural and health systems share problems but rarely work together, leaving missed opportunities not only for collaboration and learning, but also for improving the lives of people throughout low- and middle-income countries. A4NH's fifth flagship, Improving Human Health, is working to change this by bringing agricultural and human health researchers together to identify evidence of positive and negative effects of agricultural development on disease, and to develop interventions to reduce disease risks and improve human health. This flagship is co-led by the London School of Hygiene and Tropical Medicine (LSHTM) and ILRI, with support from IITA.
Focus: Gender and Equity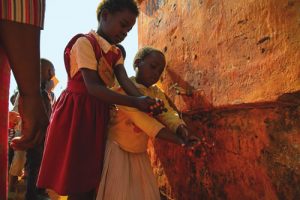 To identify the most vulnerable groups and understand how best to reach them, agriculture, nutrition, and health researchers must consider factors such as gender, age, wealth, location, ethnicity, religion, and more. Implementing interventions without accounting for these factors can lead to unintended negative consequences for those most in need. The Gender, Equity, and Empowerment (GEE) Unit helps A4NH researchers better address how gender and equity influence the relationships between agriculture, nutrition, and health.