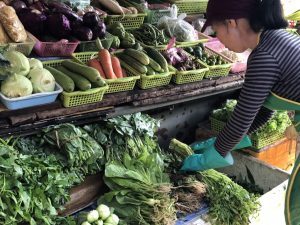 A4NH's Food Systems for Healthier Diets Flagship Research Program seeks a PhD student to focus on a research project in Vietnam and Nigeria. The project aims to improve fruit and vegetable intakes of urban, low-income consumers (especially women and youth as being the most vulnerable) in order to address the double burden of malnutrition.It involves consumer-oriented interventions aimed at increasing access, affordability and acceptability across a portfolio of fruit and vegetable value chains in urban areas of Ibadan, Nigeria and Hanoi, Vietnam. Proposed research activities will be organized around two inter-linked areas:
Food environment assessment, encompassing physical flow of fruits and vegetables, actor mapping, dietary gaps and analysis of enabling policies and
Retail innovations, combining established (food coupons) and novel (co-creation with consumers and retailers) mechanisms.
The position is based at Wageningen University and Research in the Netherlands. Applications are being accepted until September 3, 2018. Please click here for full details about the position, and for application information.