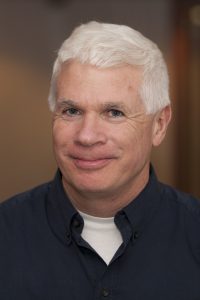 As A4NH moves into its second phase, Program Director John McDermott offers some insight into the program's history and evolution, as well as its plans for the future.
Q: Why did CGIAR establish A4NH?
JM: The food security agenda has evolved, from considering how agriculture can help poor people with income and livelihoods; then to a focus on natural resources, environmental issues, and sustainability; to circle back to how we can help the improve the nutrition and health of people.
CGIAR's goals reflected this evolution, with a portfolio shaped to meet those goals. The piece that had been missing was how to move beyond feeding people, to focus on nourishing them. CGIAR needed a program to bring together expertise on this in a different way, and A4NH is that program.
Q: How is A4NH different than other CGIAR Research Programs?
JM: We are one of the integrative CRPs, and building partnerships is a strength of ours. We link the CGIAR to the nutrition and health communities, which are different in things like methodology, and the partnerships we bring provide expertise in public health that is very different from agricultural sciences.
Q: What were the initial goals for the program?
JM: In the beginning, we were looking to better understand and establish frameworks for how agriculture could improve nutrition and health – and not harm them. We needed an evidence base in terms of what worked and what didn't. For some programs that were already in place, such as HarvestPlus, the premise was, could we prove it works? In other areas, we were looking to improve evaluation. For example, we looked to bring the rigor of public health evaluation to agriculture, to help the agriculture community understand what could be done, and what couldn't, to improve nutrition and health.
Q: Did Phase I go as you expected?
JM: Phase I was successful. The frameworks we developed through agriculture are useful, and we highlighted the importance of gender for nutrition and health outcomes. The researchers also built good portfolios of evidence. In fact, we had hoped to provide policymakers with evidence to build arguments for improving nutrition, and we made more progress on this than we expected.
Q: How did the evolution of Phase I shift expectations for Phase II?
JM: As we clarify the role of agriculture in terms of what can and cannot be done, we have shifted expectations. The questions are now not about what to do, but about how to do it. For example, we know country support is necessary, so how do we build that? Also, we know agriculture has a necessary but not sufficient role in improving nutrition and health, so how do we work with other sectors to fill the gap?
In terms of food safety, we recognized in Phase I that while there had been significant investment from CGIAR in value chains, there was still room for improvement. CGIAR has traditionally been focused on supply, but recognizes that food systems are being driven by demand and consumption. A4NH links demand with supply in the food system, looking particularly at the increasing demand for quality and safe food. In Phase I, we built the conceptual basis and evidence for food safety: how it could be coordinated, a risk-based approach, and the important role of markets – many of them informal – in diversifying diets. The role of agriculture is to improve diet quality, and that involves improving value chains for multiple commodities together, to improve whole food systems.
As food systems get more complicated, role of food safety becomes more important. It's a growing concern especially in middle-income countries, because as countries develop, the food system becomes more complicated. As that global trend progresses, the importance of food systems and food safety grows.
Q: What was the biggest lesson A4NH took away from Phase I?
JM: It's not enough to just have evidence of what to do. You need to understand how to do it in different contexts, in different countries, and to provide country support and leadership. We learned this building on what HarvestPlus had done, in efforts to improve nutrition at the country level, as well as with the Stories of Change in Nutrition, case studies that aim to improve our understanding of what drives impact. Now, we consider, for example, how do you build partnerships, how do you build micronutrient breeding into programs, how do you build capacity and support countries better?
Q: How will A4NH be different in Phase II?
JM: We are moving from a regional approach in Phase I to linking this to more support to selected focus countries in Phase II. This will further our work on the "how" questions, rather than the "what" questions. While we will be looking at specific contexts, we also aim to learn more broadly from what happens at this level.
We are also working more with outside partners and other sectors, in order to bring value chains into food systems, or to partner more effectively with public health. The A4NH partnerships first built around engaging the CGIAR partners. Moving forward, partnerships are determined by our goals. This is why we'll also be working with a smaller number of partners who are more committed to where the program is moving, and why we've established a group of managing partners as the core partners. They provide unique resources, and then bring in other partners to work on specific projects.
Q: How important are partnerships to the success of A4NH, and what have you done to strengthen them for the next phase?
JM: Partnerships are central to A4NH, because we work across sectors and our goals are to contribute to development impacts. For impact, it's the development partners who carry that out, so our focus is on how we can help them. We have really focused in on our partnerships, and narrowed them down. Our managing partners are very committed, and truly are the force behind our research agenda. Our theories of change have shaped how we partner, and made our partnerships stronger. We include them in resource mobilization and planning, and invest in them.
Q: What enables A4NH to evolve with experience over time?
JM: We see a lot of interest from the countries we work with, and they are committed. Donors are interested in our approaches and often want to engage in specific aspects. This demand motivates us, to do what we do, and do it better. We learn lessons quickly, and our pace moves faster with increased interest.
Early on, we expanded our results framework to look more deeply at what contributions research could make to nutrition and health through agriculture. We formalized contributions in theories of change and impact pathways, and this enabled us to assess rigorously what we had and what we needed, and how to get where we wanted to go.
Q: What do you think will be stronger in Phase II?
JM: I think, in Phase II, we'll be more relevant to countries, in thinking about improving nutrition and health and food systems transformations going forward with these outcomes. With a smaller, deeply committed group of partners, I think we are well positioned for stronger coordination in terms of planning and research, monitoring and evaluating. I believe this will accelerate our progress and the impacts we will have.
Nutrition and health are about human welfare and livelihood, shaped by many cross-cutting issues like gender. We were building from an already strong base in this area at IFPRI, and were able to apply that to nutrition and health. As time goes on, our focus has changed from empowering women to looking at the relationships between men and women, and also considering other disadvantaged groups.
Q: What remains the biggest challenge moving forward?
JM: While there will be better interface between research and development partners, it is still a challenge. Making our research relevant to development partners is critical to ultimate impact and accelerating progress. We will face questions like, how do you translate a body of good research and evidence into a path forward? Further improving these partnerships will improve what we do and what we enable others to do.
Q: A4NH has brought a unique perspective to challenges in agriculture, nutrition, and health. How do you think the program has changed the conversation on these issues?
JM: I think we have clarified the contribution agriculture can make by getting agriculture to focus on diet quality, where it can be successful on its own, rather than nutrition outcomes, where additional support is needed. Agriculture needs to then commit to work with other sectors on those nutrition outcome problems like stunting.
We've found that the relationship between agriculture and public health isn't very deep. There is an understanding around infectious diseases and the One Health perspective, but a common understanding is still needed in areas like environmental change, disease risks, and nutrition outcomes like obesity. These are the big health burdens that agriculture can contribute to reducing, so we need to facilitate that understanding. Over time, I think the public health sector will be paying more attention to food systems and we need to be prepared for that.
Q: Where does A4NH fit in to global efforts to improve nutrition and health?
JM: A4NH has quite an influential voice globally. We provide a unique understanding of the relationship between agriculture, nutrition, and health in low- and middle-income countries, which are changing the fastest and growing the most. With our knowledge and evidence, we inform the global conversation, and have good relationships and are trusted research partners.
Our next step will be to illustrate how programs can work in different countries. Country ownership is central to the SDGs, and so we are moving this way along with the global conversation. CGIAR's good relationships in many countries gives us strong footing as we take on issues like antimicrobial resistance, pesticides, and more.
Q: A4NH is organized not only with five research flagships, but also with three cross-cutting units. What is the role of these units?
JM: Our cross-cutting units support our flagships in areas where competence cuts across the flagships. For example, we know each flagship needs to look at gender, and it's easier and better to have support in this area for all of them. This holds true for monitoring and evaluation and country coordination, as well. A smaller group can focus on research in this area, or other cross-cutting topics. With multiple flagships working in any given country, coordination allows for greater communication and improved efficiency. This also strengthens the links between the flagships, which better integrates work into the overall research program.
We've been successful with this, particularly with gender and theories of change. We aim to build upon this success in our next phase, particularly in country engagement .
Q: In 2022, when the second phase has ended, what accomplishments would you hope to see?
JM: I hope we can take the changes we've made in how we manage programs, with our partnerships and cross-cutting units, and be more effective and efficient with our support. We look to enable countries and help them build capacity for leveraging agriculture to improve nutrition and health. We will also be looking to enable our research to support impacts at scale, in areas like biofortification and aflatoxin control. Phase I was a solid start for A4NH, but there is still much work to be done.