Globally, 25% of children under 5 are stunted. In South Asia, the burden increases to 38% of children under 5, which is about 40% of the global burden of stunting. Why is South Asia home to the largest number of stunted children worldwide? Can anything be done to change this?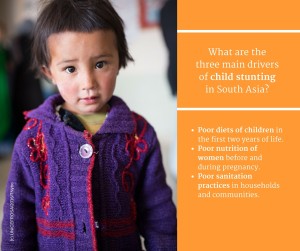 A team of global experts in maternal and child nutrition, including A4NH researchers from IFPRI and beyond, have contributed to a special issue of the international journal Maternal and Child Nutrition, Stop Stunting in South Asia, launched on May 18. The issue includes 15 research articles and 5 perspective papers on the cost of stunting to children, adults, and nations of South Asia, as well as the benefits of reducing child stunting in the region.
The consensus is that yes, large declines in stunting can be achieved in the region. While this requires political will and investment, studies estimate that every US$ 1 invested in nutrition generates US$18 in economic returns.
According to Dr. Purnima Menon, Senior Research Fellow with IFPRI and co-editor of the special issue, "Countries in South Asia need to seize the opportunity of economic growth to invest in addressing child stunting at scale. These are investments that, if supported, can 'lock in the potential' for children and nations, with benefits that far exceed the cost."
Dr. Victor Aguayo, co-editor of the special issue and UNICEF's Regional Nutrition Advisor for South Asia, agrees that investing in stunting is not only a smart move, but a necessity. He states, "The challenge ahead is to accelerate progress so that South Asia delivers its share of the global target to reduce child stunting. South Asian countries can afford to stop stunting and cannot afford the cost of inaction. The benefits of action will far exceed the cost."