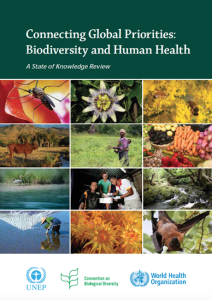 Through a collaborative effort led by the Secretariat of the Convention on Biological Diversity (SCBD) and the World Health Organization (WHO), a new groundbreaking report shows the significant contribution of biodiversity and ecosystem services to improved human health. Contributions came from over 100 experts at a range of organizations, including Bioversity International, EcoHealth Alliance, Harvard School of Public Health, and many more.
The report, Connecting Global Priorities: Biodiversity and Human Health, outlines ways in which conservation and sustainable use of biodiversity has positive impacts on human health, including through impacts on nutrition and non-communicable diseases, among others.
"We hope this joint report will increase awareness and understanding not only of the intrinsic value of biodiversity, but also as a critical foundation for sustainable development, and for human health and well-being," said Dr. Maria Neira, WHO Director for Public Health, Environmental and Social Determinants of Health. "In particular, it should serve as a useful reference for the definition of the sustainable development goals and the post-2015 development agenda, which represent a unique opportunity to promote integrated approaches to protect human and planetary health."
The report outlines health and nutrition implications of biodiversity. It points out that a diversity of species, varieties, and breeds—as well as wild food and medicinal sources, such as fish and plants—underpins dietary diversity, good nutrition, and human health.
The recommendations found in the report include calls to policymakers to create coherent cross-sectoral strategies that ensure biodiversity and health linkages are widely recognized, valued, and reflected in national health and biodiversity policies. They also target implementers, encouraging them to work multisectorally for coordinated solutions). Good examples of such interdisciplinary efforts can be seen in ecosystem, ecohealth, and OneHealth approaches, which emphasize integrative recommendations for policymakers and practitioners based on mutual understanding of interconnected challenges.