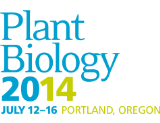 As part of the "Nourishing 9 Billion" symposium at the 2014 American Society for Plant Biologists Annual Meeting in Portland, Oregon, A4NH Flagship Leader, Alan de Brauw gave a talk on the barriers to agricultural technology adoption in developing countries and the potential role of biofortification in helping people get access to more nutritious food.
Alan first talked about how major grains are actually quite available in an aggregate sense-- moreover there is plenty of unexploited capacity. A larger problem is a relative lack of availability of nutritious crops -- legumes and pulses, fruits, and vegetables, and among specific populations animal source foods. Two ideas to reduce micronutrient deficiencies, being researched by A4NH, are to promote nutritious crops and foods through value chains, as well as to promote micronutrient intakes through biofortification.
Alan's full presentation is available on SlideShare below.