Amid a snowy Washington, D.C. setting, around 30 familiar faces (and some new ones) gathered together at IFPRI's headquarters to discuss progress and plans for the CGIAR Research Program on Agriculture for Nutrition and Health (A4NH). They were here to participate in A4NH's bi-annual Program Management Committee (PMC) and the Center Focal Point (CFP) meeting, which ran from March 18-19, 2014. The meeting provides a chance for A4NH's partners to share feedback and plan ahead. Given A4NH has entered its second full year, the group was able to gauge progress and gaps to-date and make decisions for the next phase of research.

In particular, this meeting had several key objectives.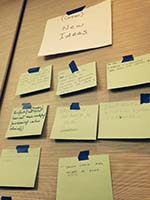 Agree on 2015-2016 extension plan including:

focus of 4 current flagships, vision for progress to 2016, and positioning for 2017-2021
plans and performance expectations for gender research
priorities and plans for partnerships and regional collaborations
inputs and process for finalizing 2015-2016 work and budget plans

Discuss and agree on performance management procedures and practices
Share information and discuss plans for agriculture-nutrition-health data and evidence and links to other CRPs and initiatives
In the days preceding and following the planning meeting, several A4NH breakout groups met to engage on specific topics. For example, a workshop on monitoring and evaluation of value chains for nutrition was held March 17th; the 3rd annual Aflatoxin Research Coordination meeting was held on March 20-21st; and lastly a working group on nutrition- sensitive landscapes met to discuss future plans on March 20-21st.
The next PMC/CFP meeting is tentatively scheduled for October 7-8, 2014, to be held in Washington, D.C.
The meeting agenda can be found here.