A4NH is pleased to announce the release of an external evaluation study that reviews two distinct, critical time periods in agriculture and nutrition research, first under IFPRI, and then under A4NH: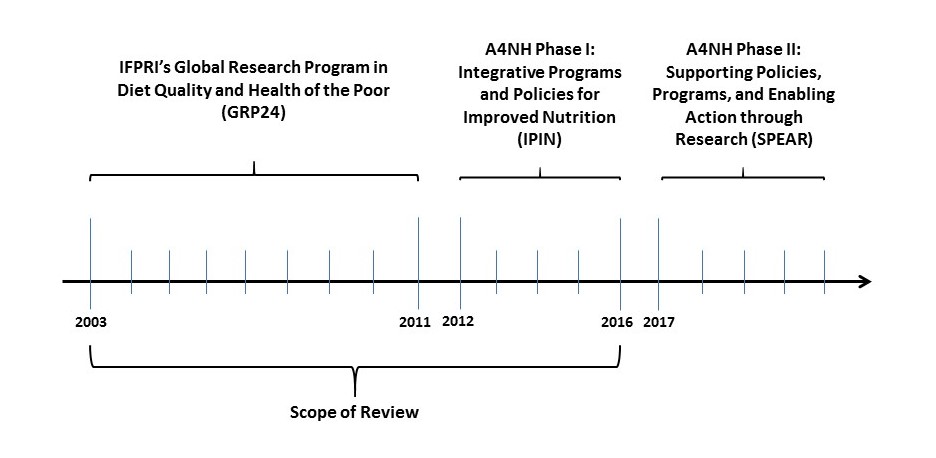 The evaluation includes recommendations for future work, with responses from researchers involved with the program and A4NH management.
From an A4NH perspective, the evaluation showcased several key milestones and highlighted important lessons that will inform our future work. The A4NH research portfolio has two distinct pathways to improving nutrition and health, one through program approaches and one through market-based approaches, linked to value chains and food systems. Policy and investment enable both pathways. This evaluation focuses on our work in program approaches and enabling policy for improved nutrition.
The formative moment for the transition from what was GRP24 to the focus taken under A4NH came during the Leveraging Agriculture for Improving Nutrition and Health conference in Delhi, India, in 2011. During the conference, part of the IFPRI 2020 series, researchers were asked to provide evidence of what agriculture could do to improve nutrition and health, identifying the types of policies and programs that would be effective, for the donors and governments to invest in. It has been striking how much demand for rigorous research evidence there has been, across countries, stakeholders, and sectors to improve nutrition.
As the evaluation notes, with continued leadership from IFPRI, efforts to address the agriculture-nutrition evidence challenge have been very successful. Progress has come through publications, including the 2014, 2015, and 2016 Global Nutrition Reports; papers on nutrition-sensitive interventions and the politics of reducing malnutrition in the Lancet's series on Maternal and Child Nutrition; and others, as well as through tailored reports and dialogues with stakeholders in different countries. Two countries specifically highlighted in the evaluation, India and Ethiopia, are A4NH focus countries. In both these countries, there was evidence of contributions by IFPRI/A4NH research to improving program implementation and policy making.
We've learned quite a bit over this time:
Agriculture can do a lot to improve diets, including consumption of key micronutrients.
Integrating nutrition education and women's empowerment actions with agriculture interventions enhances and sustains nutritional benefits from agriculture.
We've also paid a great deal of attention to how nutrition-sensitive agriculture can reduce stunting, a major focus of global nutrition:
Research backs up what nutritionists have said for some time: addressing and reducing stunting requires multi-sectoral inputs.
Agricultural interventions need to be combined with other things in a complex, cross-sectoral process.
Our work in this area, including some conducted just recently, highlights the complexities of stunting and clarifies the pathways to stunting with a view of what we can and can't do to reduce it.
As time has gone on, new complexities and objectives have arisen, as one would expect when working in countries undergoing rapid change. Researchers understood quickly that it's not just the impacts of interventions we needed to evaluate, but also how the interventions were implemented. Major rigorous evaluation studies were reviewed and included both impact and process evaluation. The Alive and Thrive project provided rigorous and detailed design and evaluation of both impacts and implementation processes. A portfolio of joint IFPRI and Helen Keller International projects, culminating in the CHANGE project, highlighted how co-created and coordinated design, implementation, and evaluation can build effective programs that combine agricultural interventions with nutrition education and gender empowerment. These are two examples of a larger portfolio of projects in which researchers co-developed nutrition-sensitive interventions with implementing partners. This portfolio provided much evidence to the development community as well as supporting learning by implementers. In the Alive and Thrive and CHANGE projects, adjustments to implementation from process evaluations led to better end-of-program outcomes.
This partnership model also extends to countries. A4NH focuses on working with countries to identify what works and what doesn't in the country context, as well as information on capacity building, program implementation, and policy enabling. Long-term relationships with national implementers and policymakers have been critical. In India, the POSHAN program, since 2011, has gained a great deal of evidence on trends and what's changing at the state level. Application of evidence for nutrition-sensitive development actions is co-created with policy makers and implementers. This approach of capacity building, shared learning, and collaboration is critical to effectively support national implementers and policy makers in Africa and Asia, to lead and own their nutrition-sensitive development agendas.
These agendas are governed, led, and managed by national and sub-national governments and other stakeholders. One follow-up to this evaluation will be to more rigorously use policy process analysis to assess how evidence influences policy, and how we can better contribute to the process. Because of the indirect and long-term nature of the research process, this has been hard to evaluate, both for nutrition and other sectors. Given the indirect role of researchers, trying to determine attribution of research is neither possible nor appropriate. However, we would like to more rigorously assess what evidence and how it is used can contribute better to nutrition-sensitive development.
The evidence demands for A4NH have also evolved, with greater emphasis on emerging topics countries are grappling with, including the rapid evolution of food systems and the rising challenge of overweight and obesity.
This evaluation highlights the quality and uptake of research evidence provided. However, the evaluators challenge us to go farther, and integrate and support evidence-based actions, as well as the capacity of countries to plan, implement, and evaluate those actions, particularly for poor and vulnerable people. This advice will help inform future program orientation and implementation.
---
John McDermott has been Director of the CGIAR Research Program on Agriculture for Nutrition and Health since its inception in 2012.