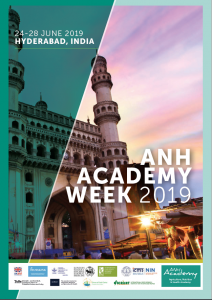 Following a highly successful conference, the Agriculture, Nutrition, and Health (ANH) Academy has released the 2019 ANH Academy Week conference report. The report details the wide variety of sessions and learning labs held throughout the week, as well as offering highlights of keynote speakers, panels, side gatherings, posters, awards, and much more.
This gathering, the 4th annual ANH Academy Week, was held 24 to 28 June, 2019, in Hyderabad, India. Drawing more than 350 attendees from 33 countries,  the five-day conference featured nearly 100 speakers, linking the fields of agriculture, nutrition, and health, and beyond, including climate, sustainable food systems, gender, and equity.
ANH Academy is led by the London School of Hygiene and Tropical Medicine's (LSHTM) IMMANA programme (Innovative Methods and Metrics for Agriculture and Nutrition Actions) and the CGIAR Research Program on Agriculture for Nutrition and Health (A4NH), with support from UK Aid from the UK Government. The 2019 ANH Academy Week was held in partnership with the National Institute of Nutrition (NIN) and the International Food Policy Research Institute (IFPRI), with additional support from Tufts University, the London Centre for Integrative Research on Agriculture and Health (LCIRAH), Wellcome Trust, Drivers of Food Choice, and the International Crops Research Institute for the Semi-Arid Tropics (ICRISAT).
The report also announced the 5th annual ANH Academy Week conference, to be held June 29 to July 3, in Malawi. ANH Academy Week alternates locations each year between Africa and Asia, to ensure opportunities for attendees from a broad geographic range to participate.
Additional conference resources for the 2019 gathering are also available on the ANH Academy website.