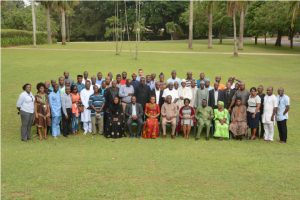 Aflatoxins, produced by molds that widely contaminate foods and feeds, are one of many "silent" threats in Africa and around the world, affecting health, income, and livelihoods of approximately 4.5 billion people in developing countries.
Over the last several years, research from the CGIAR Research Program on Agriculture for Nutrition and Health (A4NH), carried out by the International Institute of Tropical Agriculture (IITA), the International Livestock Research Institute (ILRI), and the International Food Policy Research Institute (IFPRI), has sought to mitigate aflatoxins, and draw more attention to viable solutions.
One such solution is the all-natural product generically referred to as Aflasafe®, developed by researchers at IITA with distinct country-specific products. The objective is then to work with partners, including those from the private sector, in each country on production and delivery. Over the last four years, the AgResults Aflasafe pilot project has worked in Nigeria through private-sector experts to facilitate access for smallholder farmers to Aflasafe, working to increase the farmers' productivity and profitability of Aflasafe-treated maize. The pilot set out to achieve the following objectives:
Improve health outcomes by increasing consumption of aflatoxin-free maize through supply & demand increase,

Generate economic benefits for smallholder farmers through linkages to premium markets for aflatoxin-free maize, and 

Build a sustainable market for Aflasafe.
In April, implementers gathered in Ibadan for the project's fifth annual induction and training session, to review successes and challenges to date as they consider how to improve the program moving forward. More than 30 attendees from across the maize value chain came together to gain skills in agribusiness and knowledge on best approaches to prevent aflatoxins and enhance food security and safety.
Adebowale Akande, Agribusiness Specialist at IITA and AgResults Pilot Lead, reflected on what the program has been able to achieve:
"The implementers have grown over the four years to the kind of agricultural enterprise that acted as the conduit between the research, farm, and town, supporting smallholder farmers to produce quality maize for general consumption and commercial market. This training will further empower both the old and the new implementers empower implementers and farmers improve their economic returns and production." 
He also pointed to key achievements in the program's first four years, including:
Nearly 600 tons of Aflasafe sold;

Thirty-three private-sector agricultural enterprises engaged with nearly 50,000 farmers across 13 states;

Significant reduction in aflatoxin levels of maize produced by smallholder farmers, enhancing farmer participation through the private sector in domestic, regional, and global markets; and

Successful support of market-driven agriculture through private sector engagement in aggregating and marketing 129,896 tons of maize – more than 60 percent of the total production (216,493 tons), while 21 percent was retained for other purposes, including household consumption.
The project is in its last phase, scheduled to end in September 2019. Private sector partners are putting together a strategy to then take over the innovative approach and continue progress begun under the project. To begin this work, an association has been formed to drive efforts in working with the new private company licensed to manufacture and distribute Aflasafe, and engage in policy advocacy on aflatoxin in Nigeria.
---
AgResults is a multi-donor, multi-lateral initiative incentivizing and rewarding high-impact agricultural innovation that promotes global food security, health, and nutrition through the design and implementation of pull mechanism pilots. It is funded by the governments of Australia, Canada, the United Kingdom, and the United States, in partnership with the Bill & Melinda Gates Foundation, through a Financial Intermediary Fund operated by the World Bank.