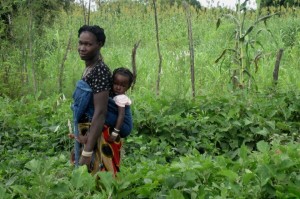 Improved nutrition and empowerment in Burkina Faso
Researchers from the International Food Policy Research Institute (IFPRI) completed a first-of-its-kind rigorous evaluation of an integrated agriculture and nutrition program in Burkina Faso, a country where child undernutrition is common and the prevalence of anemia among children under five is 92 percent, the highest in the world.
The enhanced-homestead food production program (E-HFP), a two-year program implemented by Hellen Keller International (HKI), provided women with small productive assets (such as seeds, seedlings, saplings, and small tools) in addition to teaching them about optimal agriculture, health, hygiene, and nutrition practices. It also sought to raise their incomes by creating an opportunity to sell surplus produce and small animals.
The IFPRI-led study, supported in part by A4NH, was the first to use the gold-standard in evaluation  design – a randomized controlled trial (RCT), to rigorously evaluate and document the impact of this type of program on mother's and children's health and nutrition and women's empowerment outcomes. The study was co-led by IFPRI senior research fellow, Deanna Olney as well as Andrew Dillon, previously at IFPRI and now at Michigan State University.
In addition, to better understand how the program worked, the evaluation examined the impact of the program on intermediary outcomes that were expected to contribute to improving mother's and children's health and nutrition and women's empowerment.
The results are now in—and they are promising. In the video below, Olney shares highlights from the study and explains why this is a great first step in helping integrated agriculture and nutrition programs do more for nutrition in places where it matters most.
Among the most exciting results are some of the impacts on women. Not only were participating mothers less likely to have a low body mass index (BMI) compared to those that did not live in those villages, but the mothers also experienced improved social status and increased likelihood to participate in household decisionmaking for things such as healthcare and new purchases.
Their young children also benefited during the two-year program period. The prevalence of anemia among participating children who were 3-6 months old when the program started decreased by 15 percentage points. Among children 3-12 months, the prevalence of wasting (being too thin) was reduced by 9 percentage points, and diarrhea (which can contribute to wasting) reduced by between 10 and 16 percentage points.
The researchers also found improvements in the intermediary outcomes that help understand how the program had these positive outcomes. Specifically, mothers in participating communities owned more agricultural assets and small animals, produced more nutritious foods, gained more health and nutrition knowledge, and ate more nutritious foods. In addition, their children were more likely to meet their minimum dietary diversity requirements compared to those living in villages that did not have the program. 
These results matter because up until now, there has been a lack of convincing evidence of a link between programs that provide nutrition and health education and promote planting home gardens and health and nutrition benefits for both mothers and young children. Previous program evaluations have shown that food production and intake of nutritious foods often increase among participants in these types of programs, but most of this data has come from poorly designed evaluations. In addition, the evaluation of the impact of the program on intermediary outcomes support these positive findings.
These results offer a compelling case for rigorous evaluation, strong collaborations between implementers and researchers which begin at the program design stage, and an iterative process that allows for real time and longer-term improvements to programs for better nutrition and health outcomes.  
In fact, following the two-year impact evaluation, HKI has already adopted some of the recommendations made by IFPRI that may improve the impact of the program on maternal and child health and nutrition outcomes. Now IFPRI is working with HKI to evaluate the impact of these changes in the program model as well as to examine the sustained and spillover effects of the original program.