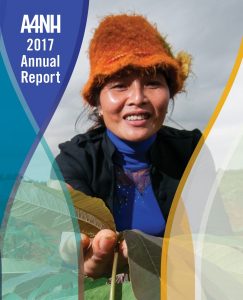 The CGIAR Research Program on Agriculture for Nutrition and Health (A4NH) is pleased to announce the release of its 2017 Annual Report. The report highlights the program's accomplishments and activities during the first year of its second phase.
Detailed in the report are research, events, and results from across A4NH's five research flagships and four focus countries, including:
"A4NH operates from a unique point of view that takes a consumer, consumption-led perspective, rather than operating from a supply-driven one," noted A4NH Director John McDermott. "As one walks through a timeline of our work in 2017, our efforts to do this in a holistic, collaborative way are evident, and we look forward to moving this work forward with our managing partners in the years to come."
An interactive version of the report is available, while the full report can be downloaded here.