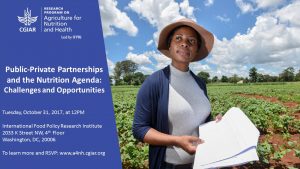 On Tuesday, October 31, A4NH hosted a conversation about the challenges and opportunities for public and private-sector actors in improving nutrition, including where there are openings for working together in new and innovative ways.
---
How can the private sector's expertise be leveraged to improve nutrition for consumers worldwide? How can they be involved in the policy conversation without lobbying? How can we work with the private sector to promote much healthier food options?
Working with the private sector to improve nutrition globally offers a host of opportunities, but the path to creating these partnerships is not without its risks and potential pitfalls. In this conversation, researchers, policymakers, and industry experts outlined the situation, and explored options for moving forward, with invited responses as well as open discussion.
WHAT: A seminar on Public-Private Partnerships and the Nutrition Agenda: Challenges and Opportunities
WHO:
Part One: Key issues in public-private partnerships for improved nutrition
John McDermott, Director, CGIAR Research Program on Agriculture for Nutrition and Health (presentation)
Derek Headey, Senior Research Fellow, Poverty, Health and Nutrition, International Food Policy Research Institute (presentation)
Michael Taylor, Consultant, Global Food Safety Partnership, World Bank
Rebecca Hamel, Managing Director, Georgetown Resource Mobilization
Part Two: Experiences and lessons in private sector engagement for improved nutrition
Ruerd Ruben, Research Coordinator of Food Security, Value Chains, and Impact Analysis, Wageningen University & Research
Nelly Fezé, Senior Industry Specialist - Global Agribusiness, International Finance Corporation, World Bank Group (presentation)
Inge Brouwer, Associate Professor, Food and Nutrition Security, Wageningen University & Research
Victor Manyong, Agricultural Economist, International Institute of Tropical Agriculture
Kristen Scott, Director, Health & Nutrition Policy, Grocery Manufacturers Association
Harley Stokes, Food Security Policy Analyst, Catholic Relief Services
Djeinam Toure, Senior Associate, Monitoring, Learning and Research for Agriculture, Global Alliance for Improved Nutrition
Eric Trachtenberg, Director, Food & Agriculture Sector, McLarty Associates
Benjamin Uchitelle-Pierce, Program Analyst, HarvestPlus
Open Discussion Moderated by: Ruerd Ruben, WUR
Summary and Conclusion: Emmy Simmons, Former Assistant Administrator, United States Agency for International Development