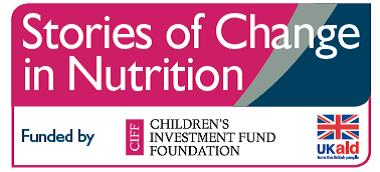 The Stories of Change in Nutrition initiative, funded by CIFF and DFID through Transform Nutrition, fills a key gap in the experiential evidence base for nutrition. In-depth case studies from five countries (Bangladesh, Ethiopia, Nepal, Senegal, and Zambia) and one Indian state (Odisha) explore factors contributing to improvements in nutritional status. They tell the stories of policymakers, nutrition leaders, and implementers in order to help stakeholders better understand what drives impact and how enabling environments, pro-nutrition policy, and implementation processes can be cultivated and sustained.
The findings contributed to Nourishing Millions, a recently published book compiled by IFPRI, which is available for download on the Nourishing Millions website.
In addition, a summary of findings from these studies is now available in brief format, by country, at the below links. The briefs are also available for download, along with other Stories of Change resources, on the Transform Nutrition website.