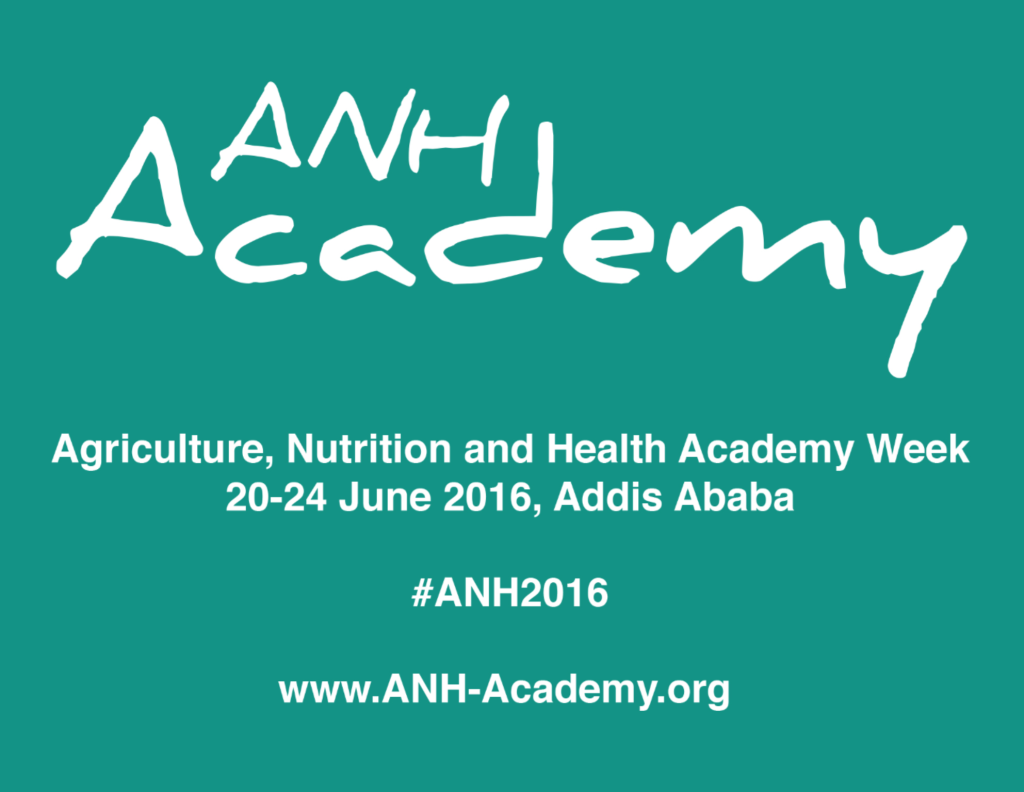 A4NH is excited to be part of next week's inaugural Agriculture, Nutrition & Health (ANH) Academy Week to be held in Addis Ababa, from 20-24 June.
For five days the global community of interdisciplinary researchers and research-users working at intersection of agriculture-food systems, health and nutrition convene in Ethiopia; to learn, share and strengthen collaborative partnerships with the goal of improving nutrition and health. The first annual Agriculture, Nutrition & Health Academy Week is held in Addis Ababa to facilitate African participation with attendees from around the world and comes just a week after the release of the Global Nutrition Report 2016, which warns that 'malnutrition and diet are by far the biggest risk factors for the global burden of disease.'
This is no small challenge; globally, undernutrition is a cause of around 3.1 million deaths per year – nearly half of all deaths in children under five - and stunts the growth of a further 165 million children. At the same time, diet related chronic diseases are rapidly on the rise even amongst the poor in low and middle income countries. Agriculture and food systems too are transforming rapidly driven by food and oil price volatility, environmental change, the changing demand for food driven by economic development, increasing urbanization and changes in lifestyle and consumption patterns. Making agriculture and food systems sustainable and healthy is one of the top policy priorities and is central to the Sustainable Development Goals agenda.
To achieve these goals, we need to understand the interactions between agriculture-food systems and nutrition and health, and to have tools that allow us to predict the effects of agricultural-food system change and innovation on health and nutrition outcomes. This requires collaboration across disciplines and sectors, recognition of which is reflected in the objectives of the ANH Academy.

Suneetha Kadiyala, Senior Lecturer in Nutrition-Sensitive Development at the London School of Hygiene & Tropical Medicine and Principal Investigator, IMMANA
The programme for the ANH Academy Week features contributions from a diverse array of leading thinkers at the nexus of agriculture, nutrition and health research and policy. Keynote speakers include Dr. Agnes Kalibata, President of the Alliance for a Green Revolution in Africa (AGRA) and former Rwandan Minister of Agriculture and Animal Resources; Shawn Baker, Director of Nutrition at the Bill & Melinda Gates Foundation; and Haris Gazdar, Senior Researcher at the Collective for Social Science Research.
The Academy Week events, in Addis Ababa, begin with two days of training sessions-- Learning Labs-- covering a broad selection of impact measurement methods and skills, as well as sessions focusing on interdisciplinary research, gender-sensitive interventions and getting published, among others.
The Learning Labs are followed by a three-day Scientific Conference on Agri-Health Research. Speakers will deliver oral and poster presentations around six major themes:
Agriculture and Nutrition Linkages
Agriculture and Sustainable Diets
Health Impacts of Animal Sourced Foods
Women, Households and Nutrition
Markets, Value Chains and Nutrition
Determinants of Diets and Nutrition
The ANH Academy grew from a commitment to build interdisciplinary capacity and foster a community of researchers working in agriculture and food systems, health and nutrition. Founded by the Leverhulme Centre for Integrative Research on Agriculture and Health (LCIRAH), A4NH, and the Innovative Metrics and Methods for Agriculture and Nutrition Actions (IMMANA) research initiative, the ANH Academy – of which membership is free – facilitates learning and sharing among researchers working at the intersection of agriculture, nutrition, and health.
For more information, please visit the ANH Academy webpage or contact Joe Yates, Research & Knowledge Uptake Manager, IMMANA.