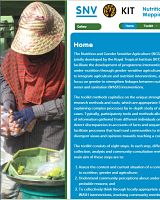 A new online toolkit and accompanying report, produced by ​two Dutch development agencies, SNV and Royal Tropical Institute (KIT), offers important guidance on how and why to address undernutrition with gender-sensitive agriculture interventions. The toolkit aims to integrate agriculture and nutrition interventions, and add a strong focus on gender to strengthen linkages between nutrition, agriculture, and water and sanitation (WASH) interventions.
The online toolkit consists of eight steps, each providing key questions to consider at different stages of program development,  and each including an appropriate combination of data collection, analysis, and community consultation methods. The overall approach is highly participatory, and all steps work towards a community action plan.
The accompanying paper explores nuances between "women's empowerment" pathways versus "gender-sensitive" development, and argues that a holistic understanding roles, access, decision-making, and norms is what ultimately informs good interventions.