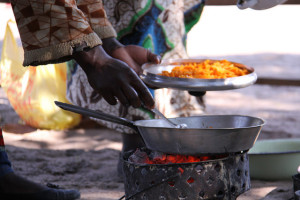 You are invited to join a free online webinar on Wednesday, December 2, 2015 at 9am (EST), covering insights from a recent Integrated Nutrition Conference in Nairobi, Kenya hosted by Catholic Relief Services (CRS) and A4NH.
During the webinar, CRS will provide a brief overview of the conference, highlighting the multi-sectoral integrated approaches presented, current efforts in multi-sectoral integration, and practical challenges raised. A summary of potential areas for future programming and research that were derived from the presentations, panel discussions, and group work will be shared. The USAID-funded Strengthening Partnerships, Results, and Innovations in Nutrition Globally (SPRING) project will respond by sharing key insights from the conference. More information on this webinar is available on the SPRING website.
 Webinar speakers will include the following:

Valerie Rhoe Davis
Ms. Davis works for Catholic Relief Services in it Program Impact and Quality Assurance Department as a Senior Technical Advisor in Agriculture. She technically supports the integration of agriculture and nutrition and the integration of gender in agriculture in CRS' programs through strengthening staff capacity, supporting proposal development, developing and piloting innovations, and evaluating such innovations. Prior to joining CRS, Valerie held several positions at the International Food Policy Research Institute (IFPRI) including Senior Program Manager for the CGIAR Research Program on Agriculture for Nutrition and Health (A4NH), Program Coordinator of IFPRI's Nigeria Strategy Support Program (NSSP) and Research Analyst within its Learning and Capacity Strengthening Program. She has worked extensively with various universities, ministries, donors, farmer associations and research institutions in developing and developed countries. Valerie has co-authored of a number of journal articles, book chapters, working papers, training manuals, and briefs. She earned her MA in Economics from University of Notre Dame and her BA in Economics and Sociology from Moravian College.
Emily Bostick Doogue
Ms. Doogue works for Catholic Relief Services from the East Africa Regional Office as a Regional Technical Advisor for Health and Nutrition. She supports health and nutrition programming in Ethiopia, Kenya, Somalia, South Sudan, Sudan, Tanzania, and Uganda from the design phase through implementation and assists in transferring closing projects to community and governmental control. Prior to serving as a Regional Technical Advisor, Emily was the Project Director of the National Global-Fund Malaria Round 10 Project in Sierra Leone, working alongside the National Malaria Control Program to conduct national surveys, improve logistics management information systems and roll out a national social and behavior change program. Emily has also worked with CRS in Tanzania to support programming for households of orphan and vulnerable children. Prior to joining CRS, Emily worked with health / social justice focused non-governmental organizations in the United States, Thailand, Nepal and China. She earned her MPH in International Health and Development from Tulane University, and two BAs in International Studies and in English Writing and Theory from Louisiana State University.