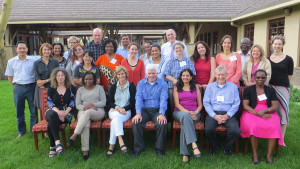 (Naivasha, Kenya) From October 7-9th, the Program Management Committee (PMC) and Center Focal Points (CFPs) for the CGIAR Research Program on Agriculture for Nutrition and Health (A4NH) met in Naivasha, Kenya for their fourth biannual meeting. Together, the PMC and CFPs help drive the program by overseeing planning, management, and evaluation activities. These meetings provide a rare opportunity for A4NH partners to gather face-to-face to examine CRP progress and challenges, and to discuss upcoming research plans.
The recent meeting had five specific objectives:
Agree on plans to develop research areas for the next phase of A4NH ("Phase 2")
Discuss and agree on plans for finalizing Impact Pathways, the Theory of Change, and an evaluation plan for A4NH
Collect ideas on partnerships, capacity development, regional plans, and gender for A4NH
Capture inputs and comments on main elements of the upcoming 2014 Plan of Work and Budget (POWB)
Prepare for the 2013 Annual Report for the CGIAR Consortium
Speaking about the recent meeting, A4NH Director John McDermott noted, "we made progress in developing new research areas for Phase 2." He added, "there was a lot of interest in coordinating around value chains and nutrition sensitive landscapes."
The team heard from Theme Leaders on progress in each of A4NH's thematic areas and discussed challenges and gaps from past activities.  The group also learned about processes for upcoming evaluations as well as opportunities for new partnerships and capacity development.
In addition to learning about A4NH progress and growth, participants also had an opportunity to think about the future of A4NH. The team broke into small groups by area of expertise to discuss challenges and priorities on topics such as integrated programs and cross-sectoral policies, nutrition and health-sensitive landscapes, and food safety, among others. Input from these discussions will directly inform development of research plans for Phase 2 of A4NH. Excitement for Phase 2 research was high, as many participants began discussing possibilities of collaboration in new research areas under A4NH. The meeting also served as the official launch for A4NH's inaugural public annual report, which was released on October 7th.
The meeting included representatives from partnering CGIAR centers: International Food Policy Research Institute (IFPRI), International Livestock Research Institute (ILRI), World Agroforestry Centre (ICRAF), Bioversity International, International Institute of Tropical Agriculture (IITA), International Crops Research Institute for the Semi-Arid Tropics (ICRISAT), International Center for Tropical Agriculture (CIAT), WorldFish, and International Potato Center (CIP). In addition, the following representatives from non-CGIAR partners were in attendance: Embrapa, the London International Development Center, Institute of Infection and Global Health, Center for Public Health and Ecosystem Research (CENPHER), and The World Vegetable Center (AVRDC).
Immediately following the PMC/CFP meeting was a separate 2-day aflatoxin meeting for members of the Mycotoxin Focal Point Group, focused on Theme 3 of the A4NH research portfolio. Participants of the aflatoxin meeting included representatives from IFPRI, ILRI, ICRISAT, IITA, and the International Maize and Wheat Improvement Center (CIMMYT).
The purpose of the aflatoxin meeting was to discuss scaling up of food safety work in Phase 2 of A4NH, focusing on building a strong case for potential impact of aflatoxin research. Three working groups will coordinate research on evidence for risk reduction, diagnostics, and population biology to better understand control options.
Click here to download the report from the aflatoxin meeting.
The next PMC/CFP meeting will be held in Washington, DC from March 18-19, 2014, followed by the next Mycotoxin Focal Point Group meeting, tentatively scheduled for March 20-21st.